Anyone can play D&D, and a D&D player can come from anywhere. Our "Player Profile" series hopes to highlight the diverse backgrounds of D&D players that have passed through our doors.
---
Tell us about yourself, what's your background?
Dear reader, I'll start by sharing a little about the more boring of my two characters, myself. I work in business development, strategy, and innovation at State Street. One thing I'm very proud about my firm, is that we are committed to business that has 'value and purpose'. State Street has 30 years of ESG investing leadership (Environmental, Social and Governance) . Perhaps quite famously, State Street also erected the 'Fearless Girl' statue which has struck its defiant pose in front of the world's most prominent financial buildings. Unbeknownst to many, beyond its inspiring and iconic presence, the Fearless Girl represents a Gender Diversity index fund that tracks the performance of over 100 large US companies with high representation of women at the management and/or board level.
Outside of my day job, I am passionate about sustainable development and human rights. Last year, I co-organised Hong Kong's first Global Goals Jam, a worldwide event where teams in different countries develop innovative and practical solutions for the most pressing global challenges based on the Sustainable Development Goals (SDGs). I am also a co-founder of SUSTAINHK, a local platform to bring together young changemakers, influencers, and the public with the goal of making Hong Kong a more sustainable city. (Editor's Note: SUSTAINHK is also a hub project of the Global Shapers Hong Kong Hub, like The Glowing Fool.) Within the human rights space, I am an active contributor to Resolve Foundation, which aims to empower future community leaders for an inclusive Hong Kong through a social justice fellowship programme.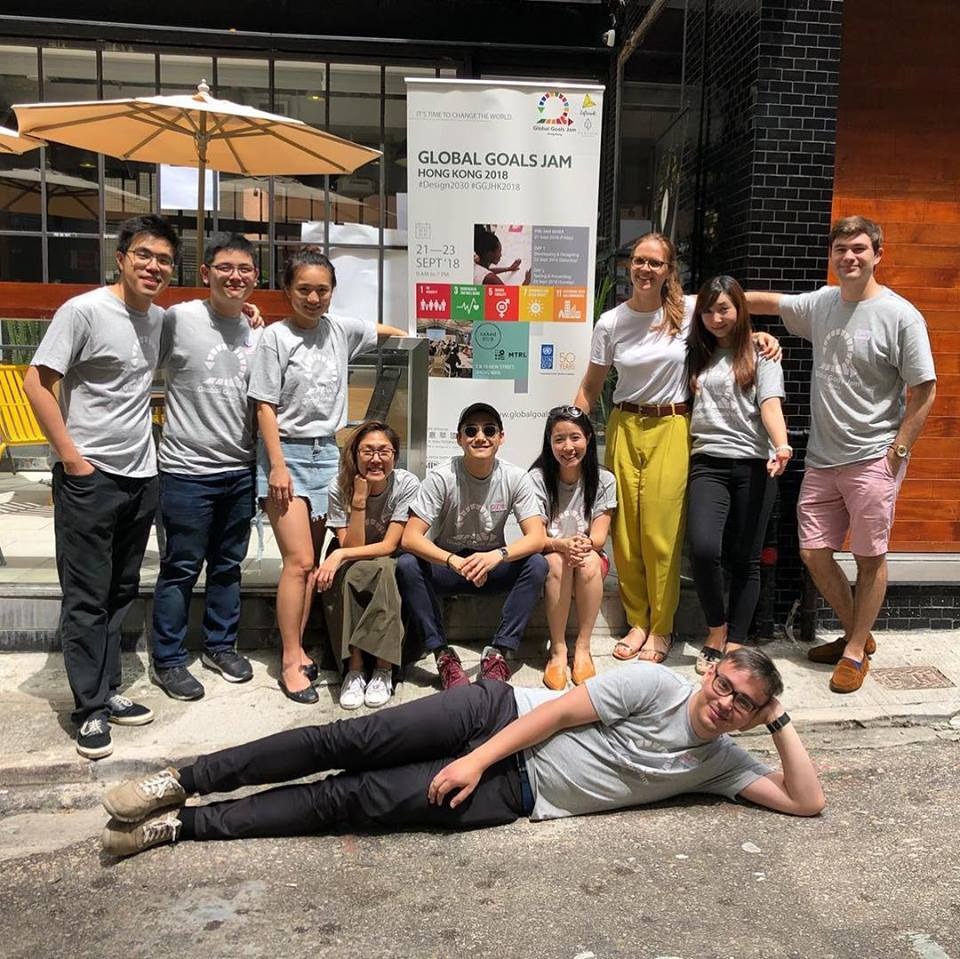 As a member of the Global Shapers Hong Kong Hub, I have had the great pleasure of playing D&D after being introduced and subsequently taught (patiently) by Earl, Dungeon Master, and founder of the Glowing Fool. He was in equal amounts overjoyed and alarmed by the detail, of trauma and suffering mainly, that our traveling party's characters had experienced – which leads me to…
Tell us about your D&D character
Lord Judge, a Half-Orc Paladin, is named after the real-life Lord Judge Chief Justice (birth name: Igor Judge), who was the presiding Lord Chief Justice of England and Wales during my time at law school in the UK. The name is of course humorous and slightly absurd – narrowly beating Lord Salmon of Sandwich for 'best UK judicial figure name', a fictional designation I just made up.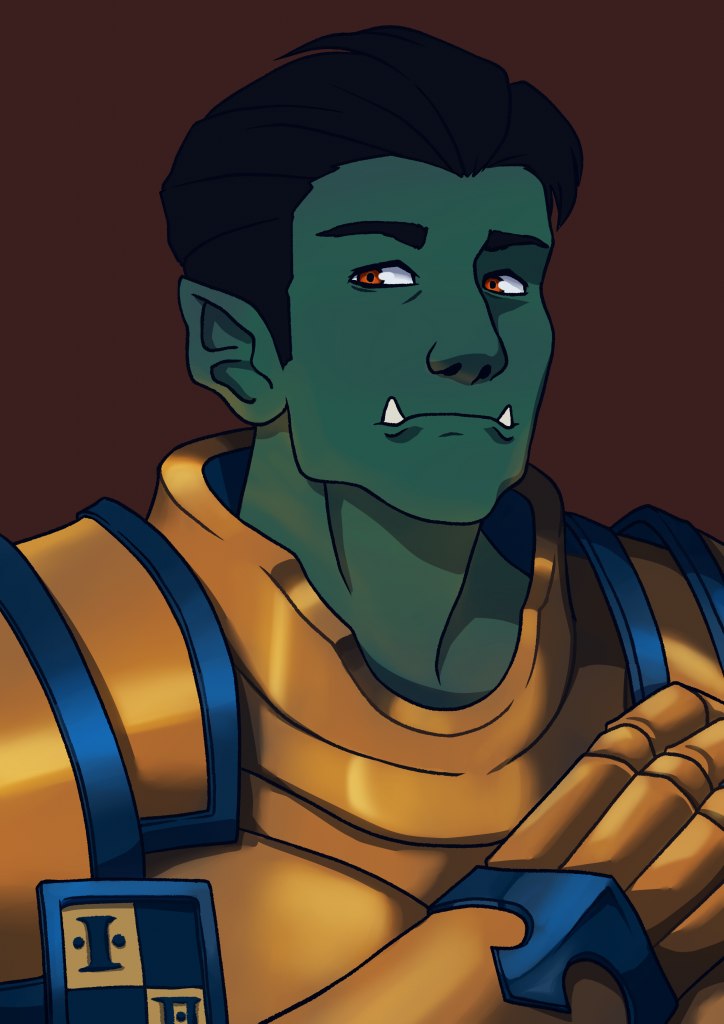 As his name would suggest, Lord Judge is representative of blind authoritative justice. His aim is to defeat evil belligerents that torment the vulnerable, and to restore peace across the region alongside his comrades of the Paladins Promoting Peace (PPP). The PPP is a holy order representing a wide set of races. It has existed for millennia, and great divine power is passed down from generation-to-generation to continue the PPP's legacy. Lord Judge's father, the Viscount Caldecote, was a formidable paladin, revered by the community – but had been recently assassinated by a corrupted paladin pledged to evil. Thus, Lord Judge's story begins in earnest with a personal tragedy, which leads him onto his life mission, hell-bent to eradicate evil and wrongdoing from this world.
In fantasy lore, from Beowulf to Tolkien, orcs are stereotyped as brutish, ravenous, and unsophisticated, making them unlikely paladins. What I loved about creating this concept is that it challenges a traditional portrayal of an orc and instead imagines a divine warrior, committed to the tenets of equality and righteousness. It is also a great way to reflect the importance of challenging racial or cultural stereotypes in real life as well!
Why do you play D&D?
I love the performing arts – I grew up immersing myself in music and theatre – and it continues to be a great pastime of mine. D&D is not too different actually, as many of the reasons I love music and theatre overlap: expression, emotion, and escapism! There is a similar magic with D&D where everyone is free to be anyone they choose to be in a universe that not only allows, but encourages, that self-expression.
For me, D&D also brought about a rekindling of my love for the fantasy genre – growing up with Lord of the Rings and Warcraft III – which I had forgotten about. The lore is very rich – there are so many D&D books, which was not too surprising – and it is always fun to let the imagination wander as we set out on new quests and adventures.
The dice and math components are also very interesting – the element of chance makes the game really thrilling and high-stakes, and often completely spontaneous… it always makes for great drama and excitement when an adventurer's dice serves them, or fails them!
I've had only great experiences playing D&D – solving problems and learning to work together is always a fun challenge, albeit getting ourselves in trouble half the time to the Dungeon Master's chagrin. What is really fulfilling about it though is building communication and empathy with others. I do agree with Earl that if more people played D&D, the world would definitely be a kinder and more imaginative place! So hopefully, we can all build that world together.
Christopher works in business development, strategy and innovation at State Street. He is interested in 'value and purpose' business, particularly in ESG and social change investing.
He is also passionate about sustainable development and human rights: he has co-founded and/or been involved in organisations and initiatives such as Hong Kong's first U.N. Global Goals Jam, SUSTAINHK and Resolve Foundation. He is a member of the Global Shapers Community, Hong Kong Hub.